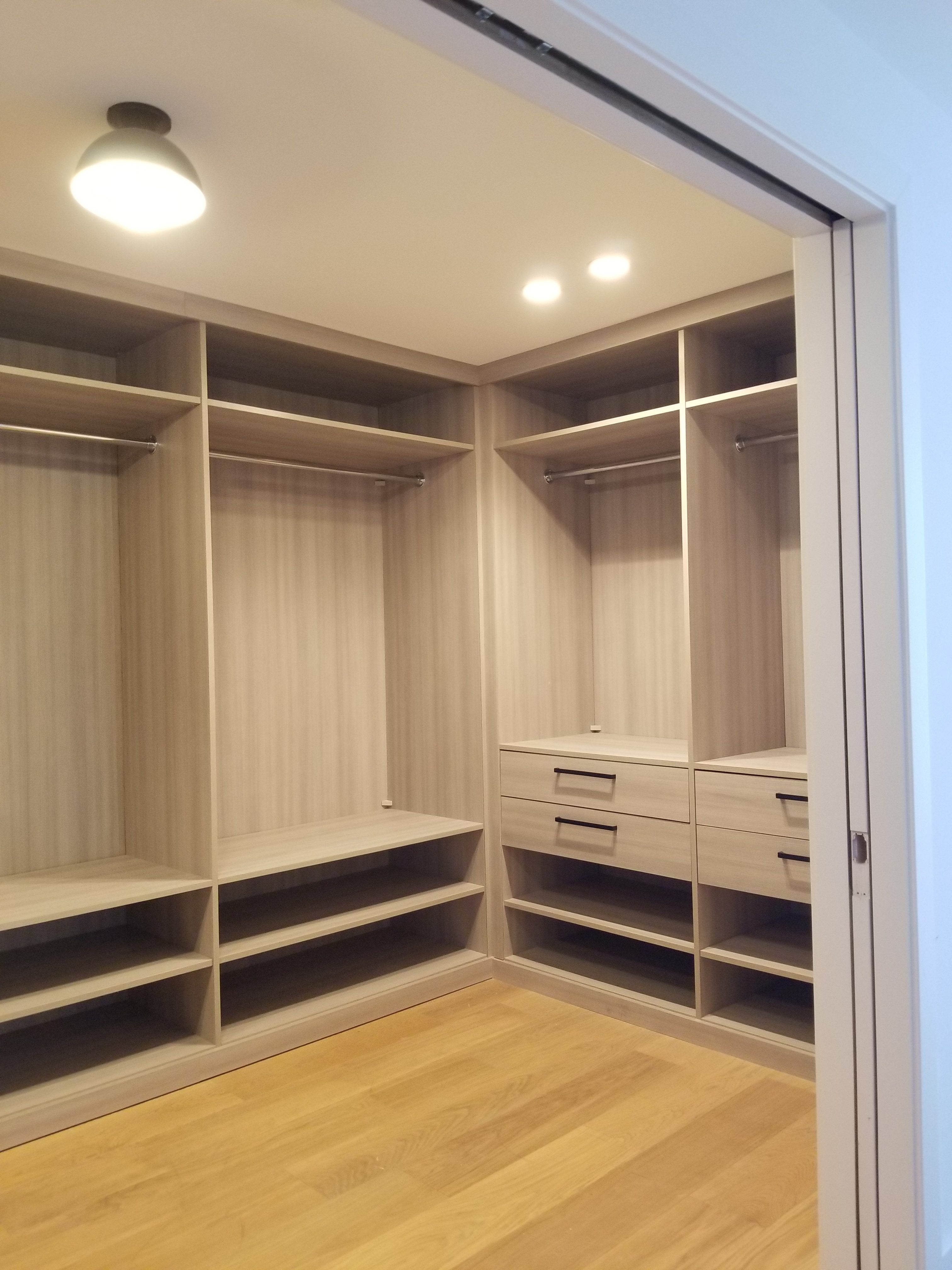 The Best Lighting to Make Your Walk-In Closet More Luxurious
The use of lighting plays a significant role in creating the atmosphere in any type of room. The best, and arguably the most popular lighting to install in your walk-in closets are LED lights. It can take a drab space and turn it into something warm and cozy, and they give off very little heat. The difference between having just enough light to see versus an inviting-and-luxurious closet can be made by selecting the proper LED light fixture.
Walk-in closets are no different than any other space. The wrong lighting can turn a beautiful, spacious closet into nothing more than an ample storage space. Lydia Marks, whose role as set director for Sex and the City, gave her idea of what a fantastic walk-in closet looks like, says that "lighting is one of the most important things to consider" when laying out a plan for a walk-in closet.
Upgrading or designing a brand-new walk-in closet space is always an exciting venture. Taking time to place the right lighting thoughtfully can ensure you bring your closet to the next level. From design, bulbs, and smart-lighting technologies, there are many options to consider for your walk-in closet.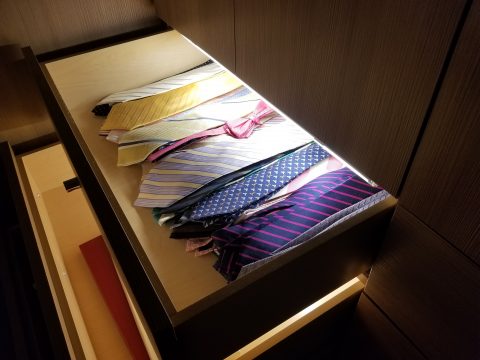 Keep Ambient Light in Mind
There are three types of lighting used for interior design – ambient, task, and accent lighting. Ambient light is the most important when designing a walk-in closet. Unfortunately, many amateur designers fail to take the step of finding something other than a fluorescent panel to illuminate the space.
Recessed lighting is indeed a significant first step to improving the ambiance in a room. Provided you select a good bulb and furniture that thrives under recessed can lights, like something with a reflective finish, your walk-in could look great with this selection. However, if you are looking to create a show-stopping space, consider going beyond recessed.
The most fabulous walk-ins are centered around a particular focal point. Using lighting design to establish a central location accomplishes two tasks – creating a focus and using creative lighting solutions. A chandelier or pendant lamp can dramatically improve the look of your walk-in closet.
The key to success is to select an ambient light source that removes the dark spaces without creating glare or overly bright looks. Track lights or a spotlight lamp can create more shadows, so selecting a ceiling fixture with several bulbs is best.
Ambient lighting can set the mood for space, but it is up to task lighting to add function to the form.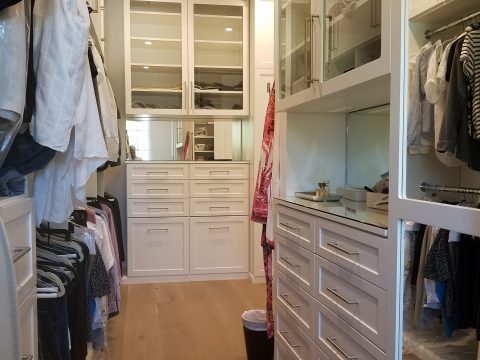 Task Lighting to Handle the Job
Ambiance is essential and choosing the right fixture to accomplish that goal goes a long way toward designing a beautiful walk-in closet. How will you see your accessories, shoes, or wardrobe palette with just light made to make the space warm? You will not.
Task lighting steps in to make sure you can make good outfit choices without flipping on a blinding row of runway lights every time you step into your closet. High-End closet space will creatively use task lighting in all the right places.
LED recessed and ribbon lighting are walk-in closet game changers. Placing these light sources above rows of hangers or surrounding shelves can illuminate your wardrobe without ruining the overall look of the space.
Use task lighting to keep your closet functional and make it a space you will use. Adding some accent lights to highlight different areas can create major drama and make your walk-in a real showpiece.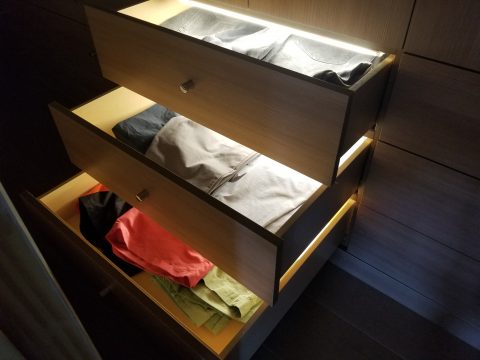 Accent Your Accents
Gone are the days of just hanging up clothes and putting shoes on a shelf. Elegant walk-in closets require creating an interest in the space with accents. Placing a framed piece of art, a unique antique, or sports memorabilia in your walk-in closet can add to the luxury of the space.
Create drama by placing appropriate accent lighting on whatever interesting pieces you choose to put in your walk-in. Highlighting a collection of handbags or shoes is also a way to manufacture an accent piece.
Not every home or master suite has the space for a massive walk-in closet. Make your area appear bigger by splashing light up onto the ceilings. LED strip lighting can be used to shine upwards, removing shadows and making the ceilings feel taller than they are.
The three forms of lighting all play a vital role in creating an amazing walk-in. Smart technologies can take it up a notch by making space intuitive in addition to being attractive.

Give Your Walk-In Closet Some Smarts
Redesigning any room should consider smart home technology. Closets can be made better with these elements, as well. Some incredible upgrades can be had with fairly minimal smart tech expenditures.
Imagine opening the door to your walk-in and watching the lights come on together in sync. Bluetooth makes this and much more possible. You could use the same technology to illuminate drawers or cabinets as you open them by connecting your closet to the rest of your smart home via the myriad apps available to put the finishing touch on a world-class walk-in space.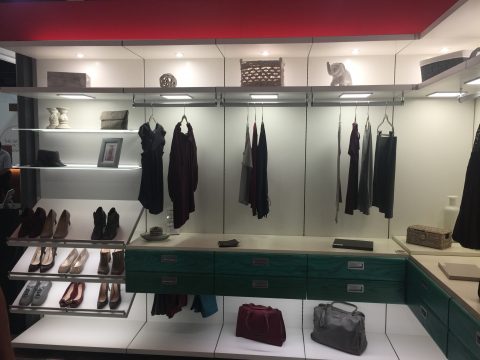 Conclusion
The future of closets is now. Simple sets of drawers and hanging rods are a thing of the past. A boutique closet has made its way to the top of the list of things new home buyers look for when house shopping. A show-stopping wardrobe is as essential to a master suite as a luxurious bathroom.
Creating a breath-taking closet is more comfortable than it has ever been with advances in design and technology. However, it is not easy to go it alone. Changing lighting, adding fixtures, and a professional closet builder and designer best do building in storage.
Contact our closet specialists to get started creating the walk-in of your dreams! Take some ideas with you or paint a picture with your description to make the dream a reality.