The Closet Guy

Difference
Are you looking for closets in the greater Palm Springs area? With over 40 years of design and manufacturing experience with custom cabinetry, The Closet Guy offers custom-tailored designs and friendly customer service for all Palm Springs custom closet installations and garage storage organization needs.
Whether you are looking to design a custom storage space or home organization systems for your master bedroom, home office, or garage, The Closet Guy is the company to help!
We offer the best materials and service at a 10% - 20% savings over other closet companies. Why pay more? Call today for a free design consultation.
Service areas include:
La Quinta
Palm Desert
Palm Springs
Rancho Mirage
Indian Wells
Cathedral City
Coachella
Indio
... and all other surrounding areas.
The Closet Guy is located in Indio and is considered one of Coachella Valley's leaders in storage and cabinet design. We offer the best materials in the business and use only professional top tier installers. When it comes to closet design in the desert, you can trust The Closet Guy!
Before & After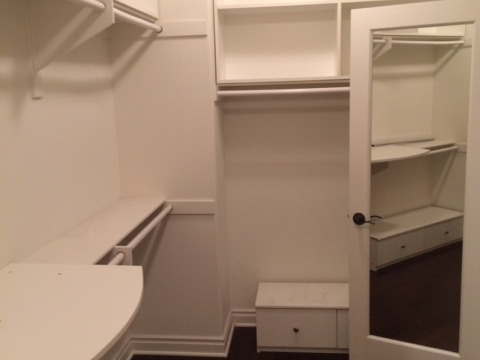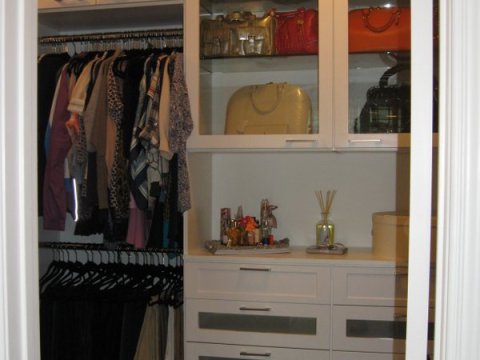 See More
Testimonials
"I've used Mike for two different condos, and have been thrilled both times. For the most recent one, he did three closets for me. The price is excellent, and they are finished quickly and professionally. I'd highly recommend Mike, the Closet Guy!"
Jennifer Bird, Bermuda Dunes, CA
"One of the best in the business. We needed an expert to help create closet space within our newly created AirBnB. I called up The Closet Guy, and he gave us an estimate. Within a week, he was able to build a clean and sturdy closet system."
Jeffrey Ito, Desert Hot Springs, CA
"Not only is Mike at least 20% cheaper than his competition, but his designs are better too! Thank you, Mike, for making the entire process easy, inexpensive, painless and yes, even fun."
Susan Pratt, Cathedral City, CA
"We needed closets on a rush basis. Mike was able to design closets for us in about a week. His pricing is amazing and his products look great!!! I would highly recommend using The Closet Guy. Mike is a true professional!"
Julia Kayton, Palm Springs, CA, Movie Colony
The Closet Guy, Servicing Greater Palm Springs, California
The Closet Guy brings over four decades of experience with custom closet installations including, garage cabinetry, walk-in pantries, and a myriad of storage solutions to the Coachella Valley.
Since the beginning, our team of innovative, creative, and master closet installers has been helping professionals and homeowners with breathtaking and highly functional storage solutions.
We've built a reputation for handling complex challenges with closet spaces big and small, creating unique tailored solutions that will be sure to add value to your homes or rental property while providing an optimized layout with features and accessories made to fit your needs.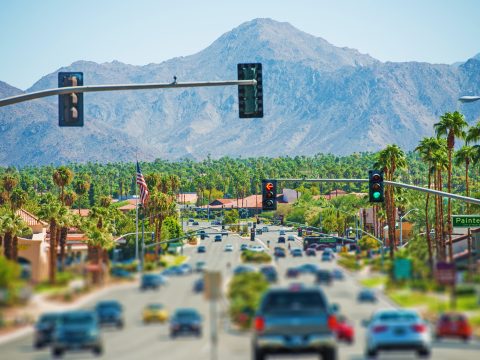 ---
Why Choose The Closet Guy?
Getting organized isn't just about appearances; it's about improving the efficiency and quality of your daily life and schedule. It's about helping you know what is where at all times and being able to access what you need right when you need it readily.
But it's also about style and performance, two things we do quite well. With over four decades of experience, our team knows how to meld design, form, and function to create the perfect storage space for any room, closet, or area.
---
Why So Many Customers Trust the Closet Guy for all Their Storage Needs:
Over 40 years in business
Extensive track record of satisfied customers
An impressive portfolio of successful projects
Dedicated craftsmen that take pride in their work
Superior quality assurance and workmanship
Customized solutions to fit any need or space
Highly affordable and optimized solutions
Costs often come in 10-20% lower than the competition
A broad range of finishes, colors, and accessories to choose from
Fully adjustable units
Superior stability
Optimized and engineered to perform
FREE In-home consultations and advice
Friendly, service-oriented staff
And more…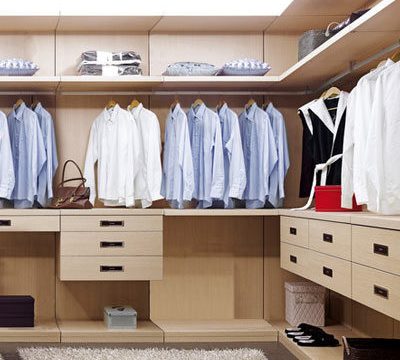 ---
World-Class Storage Services – We Offer Walk-In Closet Systems
Imagine transforming your walk-in closet into a customized utopia hand-tailored to meet your every need. At The Closet Guy, we take you from design to builds and installation, handling every step of the process with precision and care to provide you and your family with an optimally designed walk-in closet space that perfectly fits your lifestyle. From "his and hers" compartmentalization, to adjustable shelving, hideaway hampers, and overhead cabinets, we can do it all.
Features and Options Include:
Display racks for your shoes
Spacious drawers
Secured drawers for jewelry
Adjustable shelves
Comfortable bench seating areas
Discreet hideaway ironing board
Hideaway laundry hampers
Valet rods
Visually stunning hardware selections
Center island
Sliding tie rack
Impressive cabinetry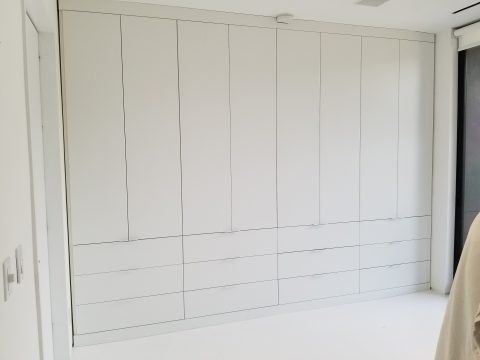 Reach-In Closets
Is your reach-in closet just not living up to the demands of your busy life? Have you begun to outgrow its outdated design and impossible to organize layout? We can help. Let us create you a
customized and affordable reach-in closet that exceeds expectations and provides ample room, storage, and organization space for all of your belongings.
Home Office Systems
Over 8 million of us in the USA work full time from home, with tens of millions more of us taking our job from the corporate office back to our home office to finish things up. There are few things as frustrating as trying to get work done in a disorganized, cluttered, and chaotic space.
Let us transform your office into a clean, organized, decluttered utopia that helps you stay focused and productive. We'll work closely with you to understand your needs, taking you from concept to reality, and providing you with the
ideal workspace to get things done.
Pantry and Linen Spaces
Our pantries and linen closets are two of the essential storage spaces in our homes. Yet they are also often two of the most neglected areas, leaving much to be desired when it comes to adequate space, layout, and organization.
Tap into our 40+ years of experience to design and install linen closet and pantry storage
solutions that meet the needs of your household and make your life easier. From adjustable shelving to hideaway produce storage, we have you covered.
Garage Storage Systems 
The garage isn't just a place to store your vehicles. It's often where we stash boxes of holiday decorations, seasonal items, tools, infrequently used items, and more. Our garage storage systems are designed to help you maximize your garage space while keeping organized. You'll be surprised what we can do with a little ingenuity and creativity.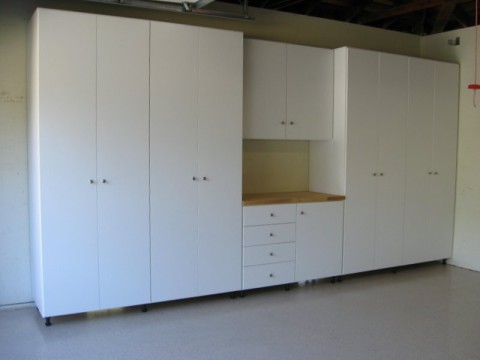 Free Standing Closets
Lacking closet space? Consider a custom freestanding closet solution carefully crafted and designed to be as aesthetically beautiful as it is functional. Freestanding closet spaces can be the perfect furnishing for your bedroom or other areas, adding to the design and complementing your style while providing additional storage space for linens, clothing, accessories, and more.
Kids Closets
Our kids have more clothes than we do, not to mention they grow out of them so fast that excess can pile up quickly with nowhere to store them. Then there are the toys. Let's not forget about those. At The Closet Guy we can help you design the
closet of your dreams for your children's clothing and other items. A well-organized kid's closet can make your life easier, less hectic, and more organized.
Shoe Storage
From athletic sneakers to comfortable loafers and stylish dress shoes, we all have a selection suited to the occasion. Let us transform your pile of shoes into a beautiful display organized to help you find and pick out the perfect footwear for any event. From shoe racks to built-in displays and more, we can find a solution tailored to your needs.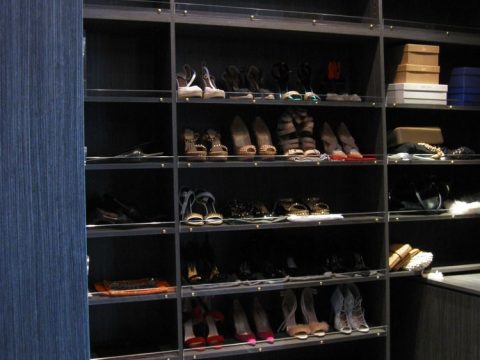 Wardrobe Doors
Custom closet doors provide privacy as well as add to the ambiance and energy of your room. They can range from simple and elegant to bold and extravagant, with the style and design being limited only by your imagination.
A few Popular Options Include:
Etched glass wardrobe doors
Lockable doors for added security
Sliding barn doors
Japanese Shoji doors
Mirror on wood doors; and
European styling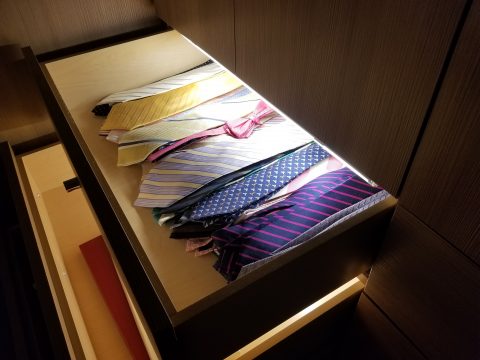 ---
Cities We Proudly Serve Include:
La Quinta
Palm Desert
Palm Springs
Rancho Mirage
Indian Wells
Cathedral City
Desert Hot Springs
Coachella
Indio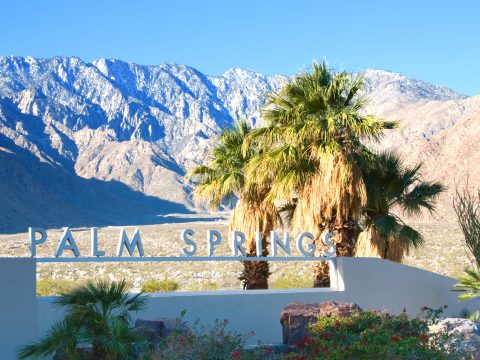 ---
Benefits of Hiring a Professional vs. Prefabricated Kits
The decision to hire a professional vs. utilizing a prefabricated kit is one that many of our customers have to weigh. Although we're biased towards hiring a professional for obvious reasons, several genuine considerations may sway you towards letting a professional do what they do best when you need to upgrade your closets and storage areas.
Before you consider DIYing your closet space with fabricated storage kits, you should explore all the pros and cons.
Downsides of Prefabricated Kits:
Shopping for or ordering the right sizes can be challenging
You're on your own with measuring out the area and planning the design
You may miss opportunities to optimize space and enhance organization
Installation and setup can be time-consuming and frustrating
Assembly and installation will likely require several tools
If any permits are required for construction, you're on your own
Advantages of Hiring the Professionals at The Closet Guy:
Free in-house consultation
Expert assessment, guidance, and advice
Customized solutions tailor-made to meet your unique needs
Custom designs, style, and colors to accentuate and enhance your rooms
High-quality craftsmanship made to last
Perfectly optimized use of space
Fast, friendly and affordable
The fact is, hiring an expert will ensure you can get the best use out of your area.