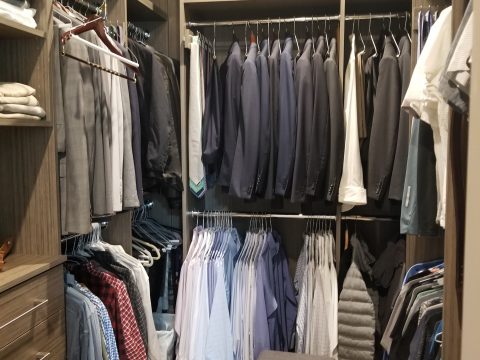 Why Some Other Companies' Closet Installations Cost 20% to 40% More Than They Should…
In spite of what the "Closet Companies" tell you, designing a walk-in closet or a reach-in closet is not rocket science. That is why I opened The Closet Guy in March of 2002.
Let me introduce myself. My name is Michael Mueller, and I am the owner of The Closet Guy. I have been a custom cabinetmaker for 40+ years and I spent three years in operations management for two of the largest closet companies in Southern California.
You see, when you spend $700 on a closet installation you are paying for more than a closet. You are paying Sales Commissions. You are paying for Advertising and Marketing to grab new customers. You are paying to support the effort to Franchise their company.
The Closet Guy designs, manufactures and installs custom closets for reach-ins, walk-ins, pantries, home offices, garages, glass and mirrored wardrobe doors, and anything else you can imagine.
Service areas include:
La Quinta
Palm Desert
Palm Springs
Rancho Mirage
Indian Wells
Cathedral City
Coachella
Indio
…and all other surrounding communities.