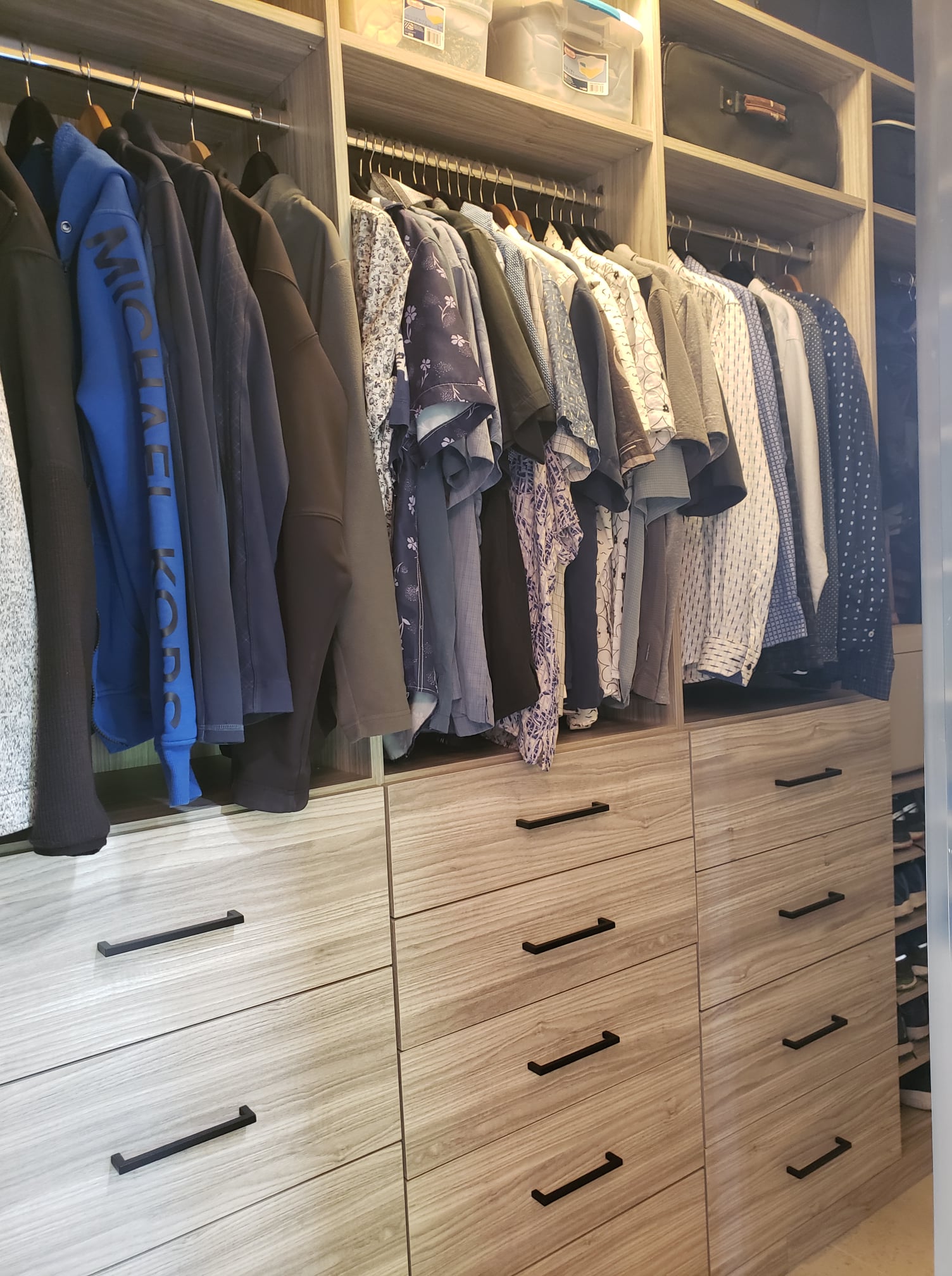 Walk-in closets can quickly become cluttered and outdated. If your closet is starting to feel stale, don't worry! There are many easy, affordable ways to give it a fresh new look. This blog post will discuss five budget-friendly ideas for refreshing your walk-in closet. With a little bit of effort, you can have a beautiful and organized closet of which you can be proud!
Clean & Declutter
First, take everything out of your closet and give it a good cleaning. This includes sweeping and mopping the floors, dusting all surfaces, and decluttering any items you no longer use or wear. Once your closet is clean and organized, it will look and feel much larger and more inviting.
Now would also be a good time to rid of things is to declutter and donate items that you no longer wear. Immediately your closet will look neater, but it will also allow you to help others in need. If you are unsure of what to donate, consider donating outdated clothes that no longer fit.

Storage Containers & A Pop of Color
Another great way to declutter your closet is to invest in some storage containers. Use these containers to help you organize your belongings into seasons to keep your closet looking neat and easy to find. Pro Tip: Don't sleep on under-bed storage containers for things you might only use once and a while.
Another budget-friendly way to refresh your walk-in closet is to paint the walls or add new wallpaper. Paint and paper are quick and easy ways to give your space a whole new look. If you're unsure what color to paint your walls, consider using a light and airy color scheme. This will help to make your closet feel more spacious and bright. You can also add new wallpaper to one or all of the walls in your closet for a pop of color. Wallpaper is a great way to add personality to your space and make it truly your own.
You can also add a pop of color with new felt hangers. Hangers are an inexpensive way to brighten your space and make it feel more cohesive and upscale. You can find colorful felt hangers at most stores that sell household supplies.

Shelving & Personal Touches
If you're looking for a more permanent way to refresh your walk-in closet, consider adding new shelving, cabinets, and shoe storage. These are great ways to add extra pizzazz and storage space to your closet and help you to keep it organized. When choosing new shelves or cabinets, be sure to select ones that complement the existing décor in your closet.
Consider adding a few personal touches as well throughout the process. This includes anything from a family heirloom to a piece of art you love or anything in-between. Adding something that reflects your style will make your closet feel more of a sanctuary and less storage space. When in doubt, contact a custom closet contractor, and with a little bit of effort, you can easily transform your walk-in closet into a beautiful and functional space.

Updated Lighting & Mirrors
Updating your lighting is one of the easiest and most impactful upgrades you can make. If your closet is poorly lit, it can make getting dressed in the morning a real chore. Adding some inexpensive LED light fixtures or even some additional bulbs can make a difference in your closet's overall look and feel.
While you are looking at lighting, consider adding mirrors to your wardrobe. Although some are expensive, mirrors are functional and provide an aesthetic that makes your space seem bigger and airier. Look at it as adding space without adding space. You can also use tinted or antiqued mirrors to add a design element.
These are just a few budget-friendly ideas for refreshing your walk-in closet. With a little bit of creativity, you can easily give your closet a whole new look without breaking the bank. So what are you waiting for!