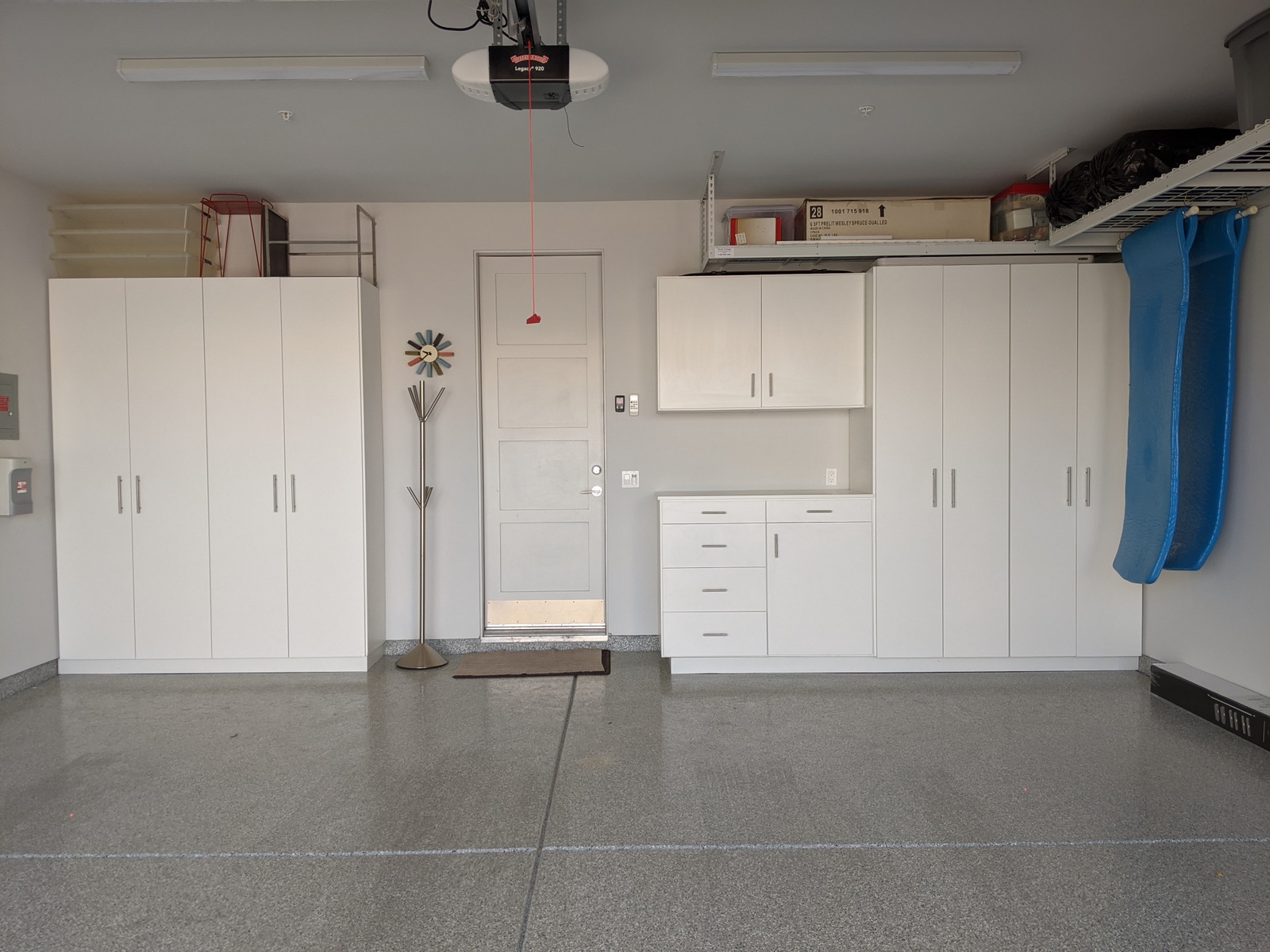 The Ultimate Guide to Garage Organization, Storage, and Cleaning
Do you feel like you're constantly tripping over clutter in your garage? Do you have a hard time finding a place to put everything? If so, then it's time to get organized! This guide will discuss the best ways to manage your garage and keep it clean. We'll cover everything from storage solutions to cleaning tips. So whether you're just starting with garage organization or have been at it for a while, this guide has something for you!
Take Inventory
One of the first things you need to do when organizing your garage is take inventory of what you have. Taking stock of your items will help you determine what storage solutions will work best for you. For example, do you have a lot of large items, or are most of your things small? How much space do you have to work with? Once you know what you have and how much space you have to work with, then you can start planning your storage solutions.
Custom Garage Storage Cabinets
Next, consider custom garage storage cabinets for the total organization of your garage. Mass-produced, one-size-fits-all solutions cannot provide the functionality and flexibility that custom cabinets can. When you work with a professional to design custom storage solutions for your garage, you can ensure that every space will be utilized effectively. 
By going with custom garage cabinets, you can fit them around obstacles like plumbing and HVAC systems, and they can be built to accommodate your specific storage needs. So whether you need a place to keep your holiday decor or extra space for your tools, custom garage storage cabinets will help you get organized and stay that way. 
If you are on a budget, you can use plastic shelving and tubs from a big box store, but you will be severely limited on what you can store. 

Clean, Clean, Clean
Another important aspect of garage organization is keeping it clean. Cleaning can be daunting, but keeping your garage looking its best is important. Start by sweeping and vacuuming the floor. Then move on to washing any walls or ceilings that need it. If you have oil stains, consider using a degreaser to remove them. Once everything is clean, you can start restoring things to their rightful place and work toward your organizational goals.
More Tips to Organize Your Garage
Now that we've gone over some of the basics let's discuss some specific tips to help you organize your garage.
Utilize wall space
Maximizing wall space is one way to make the most of your garage space. You can hang things like bikes, garden tools, and sports equipment on the walls. This organization step will free up floor space and make finding what you're looking for easier. Wall space is one of the most important things to consider when planning a custom garage makeover. 
To make the most of your garage, you need to use all the wall space available. This means hanging shelves, racks, and other storage solutions to keep everything organized. Not only will this help you to maximize your space, but it will also help to keep your garage looking neat and tidy. 
In addition, utilizing all the wall space in your garage can also help protect your belongings from damage. By keeping everything off the ground, you can reduce the risk of damage from water, dirt, and pests. So if you're looking to get the most out of your garage makeover, be sure to utilize all wall space.

Add Slat-board or Peg-board
A garage Slat-wall system is one of the most versatile and effective storage solutions for your garage. It can provide a sturdy and reliable surface for hanging tools, baskets, and other items when installed correctly. Additionally, the garage slat wall is easy to clean and maintain, making it an ideal choice for those who want to keep their garage organized and tidy.
Slat-wall should be installed on all your garage walls for maximum storage and organization. This will ensure that all wall surfaces can provide ample space for hanging items and help prevent clutter from building up on the floor. A garage slat-wall can also be used to create custom storage solutions. 
For example, shelves and cabinets can be hung from the slat-wall to provide even more storage options. Overall, a garage slat-wall is an excellent storage solution that can help keep your garage organized and tidy.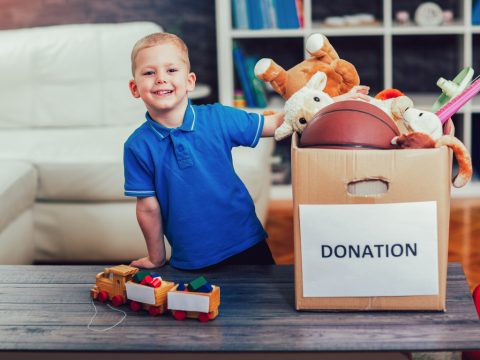 Get rid of unused items
When cleaning out your garage, it's important to get rid of unused items that are taking up space. These items might be old clothes you no longer wear, toys your kids have outgrown, or tools you no longer need. Getting rid of these items can be difficult, but it's important if you want to keep your garage organized. 
If you're unsure what to do with these items, you can always donate them to a local thrift store or charity. Alternatively, you can sell them online or at a garage sale. Once you've gotten rid of these unused items, you'll be able to organize the rest of your garage better.
Label everything
When cleaning and organizing your garage, it's important to label everything. That way, you'll know exactly where everything is, and you won't have to search for things when needed. You can label everything with labels or stickers or write directly on the containers with a permanent marker. Whichever way you label things, ensure the labels are clear and easy to read.
Create a maintenance schedule
One of the best ways to keep your garage organized is to create a maintenance schedule. A schedule should include sweeping the floor, washing walls, and cleaning oil stains. Creating a plan will make you less likely to get things cluttered and messy.
Garage organization can seem daunting, but it doesn't have to be. With a little planning and some elbow grease, you can have a garage that you can be proud of. 
Following these tips, you should be well on your way to having a clean and organized garage! Remember to take things one step at a time, and don't get overwhelmed. Before you know it, your garage will be the envy of the neighborhood! Thanks for reading, and good luck! 

Ideas to Convert Your Garage Space (If You Don't Use it for Cars)
If you don't use your garage for parking cars, then you have a lot of possibilities for what to do with the space. Here are a few ideas:
Workshop
Turn your car into a workspace if you don't park it in the garage. You can use it to work on projects, store tools, and supplies, or just spread out and get organized. A workspace can be a great way to get the most out of your garage, and it's a lot easier than you might think to create one. Start by clearing any clutter, and then designate a space for your workspace. If you need inspiration, check out some workshop ideas online or in magazines. Once you've got your workspace set up, you'll be able to easily take on projects and keep your garage tidy and organized.
Home gym
If you're looking for a better way to use your garage, why not turn it into a home gym? With a few simple pieces of gym equipment, you can turn your garage into a workout space perfect for solo workouts and group fitness classes. Best of all, you won't have to worry about fighting for a spot in a crowded gym or dealing with the weather outside. So what are you waiting for? Get started on your transformation today.
Storage POD
If you're looking for a way to make better use of your garage and earn some extra income, why not turn it into a storage unit? This can be a great way to use what you have to bring in extra income. Ask your neighbors if they need to store anything from a classic car to the family bikes–you might be surprised with how many people would love to have easy access to the items they can no longer store. Plus, it forces you to stay organized and eliminate items you no longer need.

Man cave
Your garage is the perfect place to turn into your man cave. With a few simple modifications, you can transform this space into a comfortable retreat where you can watch the game, work on your car, or relax with your buddies. First, consider insulation to keep the noise from your man cave from disturbing the rest of the neighborhood. Next, add comfortable seating and television to kick back and watch the game. Finally, if you're the handy type, you may want to set up a workbench where you can tinker with your car or work on other projects. And don't forget the fridge – stock it with your favorite beers, so you always have something cold to drink. You can turn your garage into the ultimate man cave with a little effort.
She-shed
You may have seen she-sheds popping up on social media and wondered what they are. A she-shed is simply a garage or shed turned into a space for relaxation, creativity, or just some alone time. And there's no reason you can't turn your garage into a she-shed!
With some planning and elbow grease, you can transform your garage into the perfect retreat. First, decide what you want to use your she-shed for. If you want it to be a place to relax and unwind, consider adding comfortable furniture and some calming decor. If you want it to be a creative space, add inspiring artwork and plenty of storage for all of your supplies. And if you want a quiet place to escape from the rest of the world, add cozy details like soft blankets and pillows.
Once you've decided on the purpose of your she-shed, start making it your own! Bring furniture and decor that reflects your style, and don't be afraid to get creative. With a little imagination, your garage can be transformed into the perfect she-shed for you.
No matter what you use your garage for, these tips and ideas will help you keep it organized and clutter-free. With a little effort, you can turn your garage into a space you're proud of! Thanks for reading! For more information about custom garage cabinets in greater Palm Springs, please consider The Closet Guy.