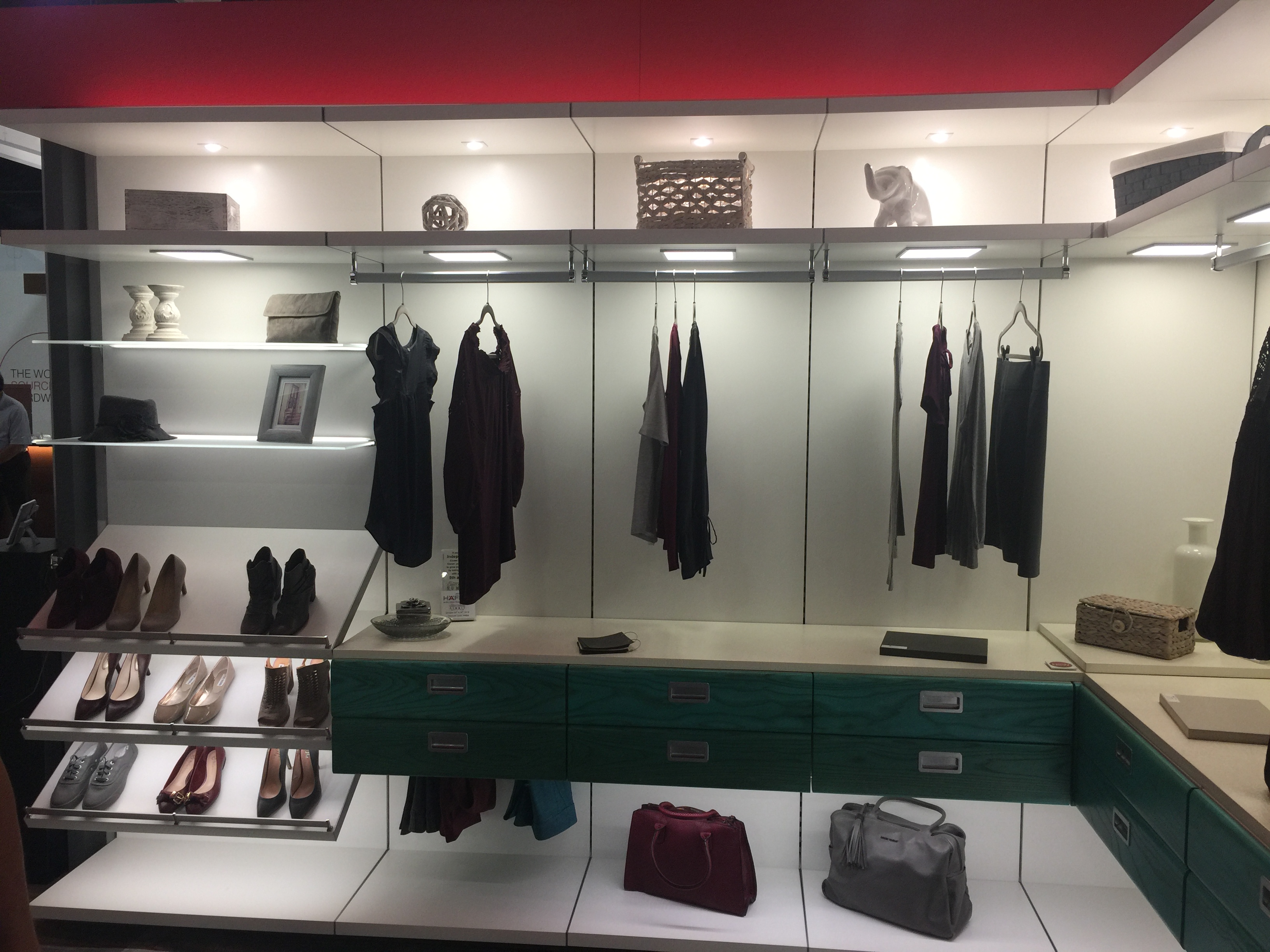 How to Create the Perfect Luxury Closet
I have seen it all working in the closet business in Palm Springsfor over 40 years. I have been very fortunate to work with people that share the vision that I have for luxury closet spaces that are both fashionable and functional. If you love to shop and buy beautiful clothing, why not showcase your items so you can enjoy them when not in use. No matter what size master closet you have to work with, you can 'luxe it up' with these helpful tips: 
Use High-End Materials
When it comes to luxury closets investing in high-quality cabinetry is always money well spent. Many of the closet companies in Palm Springs are not using real wood, which is fine for most applications, but for a classy high-end look, I advise you to go with the real stuff. No wire baskets, no plastic shoe racks, and absolutely no particle board should for this space for the best results. 
Bright & Spacious
If you are reading this blog post, you are probably a person that takes their closet space very seriously. Consider making some home improvements that will allow your dream closet. Some options to consider include converting your small spare bedroom, awkward office space, unused attic space, or you can ask your general contractor if building out a closet suite is feasible in some way. I have seen some creative room additions, such as opening up the attic to create a two-story walk-in with a spiral staircase and "handbag loft" for a dramatic Hollywood style look.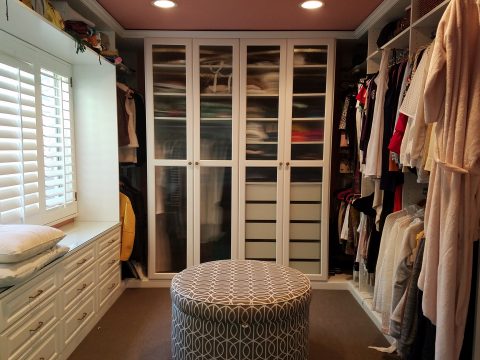 Display Shoes & Handbags
Shoe and handbag displays have been popular in LA for some time now. People want to both protect and display things of value, which makes a lot of sense to me. To see some of your most cherished items displayed in such a way that makes you happy should justify the cost. Consider using glass shelving to disperse the light better or go with a more dramatic look by wrapping shoe shelving in the same red leather that adorns the famous shoe bottoms. Handbags look great in higher cubbies type shelves or behind glass with display lighting. When planning your custom closet, consider adding a rounded end cap shelving unit for additional accessories and personal items.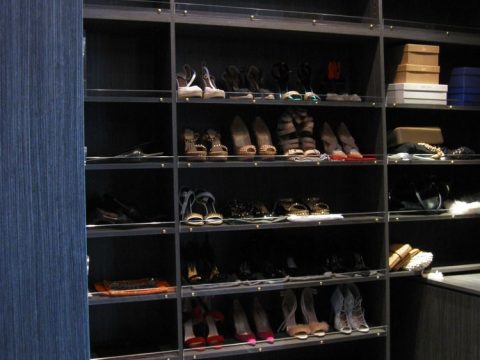 Multiple Mirrors
A great way to make your luxury closet space feel bigger is to use strategically placed mirrors that improve both form and function of your area. For additional functionality, ask your contractor to make the hanging mirrors shallow cabinets to hang things like scarfs, belts, jewelry and more. Another feature look looks very luxurious is working a tinted mirror as part of the ceiling treatment. It's a great way to make your chandelier pop even more.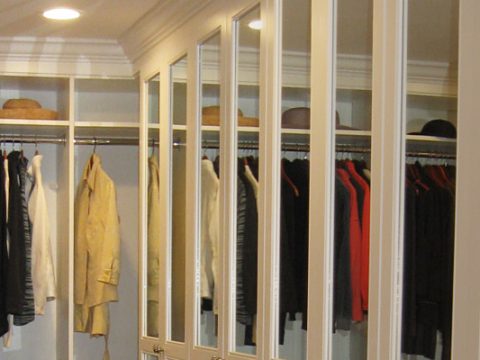 Glass or Marble Topped Counters
Having a countertop or island in a walk-in closet is one of the most popular options in the industry. I recommend a glass top for the closet island because I feel like it the most functional. No matter if you spill a couple of drops of red wine, makeup dust, or even your morning breakfast, nothing cleans up and is as easily maintained as glass. If a glass top is not part of your design aesthetic, consider a classic beveled marble top that is both timeless and elegant.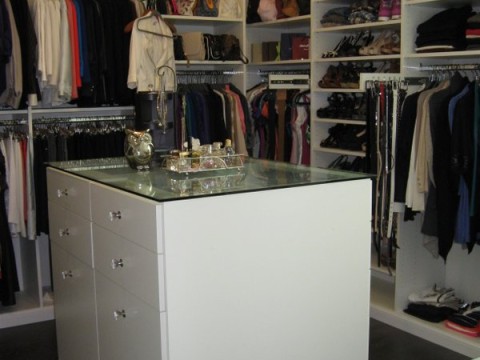 Light Fixtures & Chandeliers 
The second most requested feature for higher-end closest designs is using a chandelier as the focal point. I love this look as I think lighting can really elevate a room and highlight the high-quality materials used. If you are thinking of getting a luxe closet if sure you already have your sites on the perfect lighting to bring the room together. Don't forget to supplement with recessed or can lighting with dimmer switches.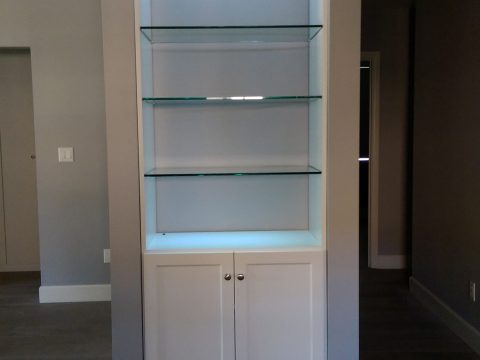 Smart Home Technology
If you are a smart home nut like I am, don't forget about your large walk-in. Have power outlets for phone chargers, Alexa devices, Phillips Hue Lighting, and even a small TV or mounted tablet makes sense for streaming music and news while you get ready. Not to mention, new devices are coming out designed to help you choose outfits to wear and even purchase looks on-demand, so go ahead and run power and ethernet if you have the means.  
Make it Your Own
This is the perfect place for meaningful items or particular possessions such as your family heirloom brush or a broach or even those wedding boudoir photos that you have no idea where to put. Other things I have seen that help personalize a closet space range from anything from religious shrines to portraits of cats and everything in-between. As long as it is meaningful to you and tastefully done, I don't see a problem with personalization of a space where only you and your closest friends and family will see. 
For more information about luxury custom closet solutions in the Palm Springsarea, please consider The Closet Guy.