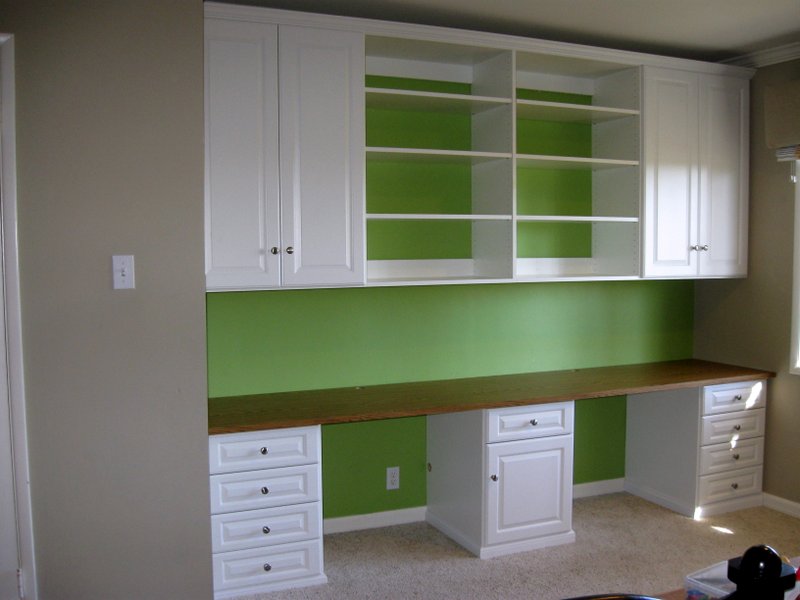 9 Small Home Office Design Trends for 2020
Now that many people are forced or are choosing to work from home as a result of the Safer-at-Home quarantine orders some people are struggling to find a space in their home to be productive. I have been getting lots of questions from people in Palm Springsabout how to incorporate a home office system into their house that checks all their boxes including being functional and stylish. 
Here are a few design trends I have noticed for 2020: 
Minimalist Designs – If there was ever the perfect place for a minimalist design, it's in the home office. Going with a simple office design can increase productivity, it is easier to keep clean, and it makes for a more delightful guest room experience when using your spare bedroom for double duty. 

Pro Tip: Look for a contractor who specializes in custom European style closet systems and ask if they can build your office. 

Going Vintage – Some of us have boxes of vintage collectables or memorabilia that is meaningful or special but just doesn't fit our home decor. The home office is the perfect place to showcase your collectables and keepsakes while still carving out a productive workspace. To avoid clutter, I recommend going with a mix of built-in shelving and show cabinets with glass doors and shelf inserts. This way, you can keep the clutter to a minimum and protect the most valuable items under lock and key. 
Using Tables instead of Desks – With a digital, or paperless workspace try using a sleek Scandinavian table design in place of a desk makes for a chic minimalist workspace. One option that is becoming more popular in smart homes is to convert the office closet space or broom closet into a utility closet for things like printers, scanners, routers and office supplies, so there is less of a need to have a boxy desk. Try using the extra space in the room for a built-in window bench for a comfortable reading nook or video conferencing area. 
Bringing the Outdoors In – If you or your spouse is the type of person that is more productive while working outside, try to bring the outdoors in. When planning for your home office, talk to your contractor and mention you want to leave space at the top of your built-ins for plants or to leave a corner open for a hanging pot. Another option making a comeback during the quarantine is incorporating a fish aquarium into the home office design. For a seamless and high-end look, have your aquarium cabinets made at the same time as your other builtins.
Using Lots of Color – I'm a big fan of grey and earth tones when painting interior walls but when it comes to painting the walls of your office, go nuts! Use colors that inspire you and tickle your senses. Instead of the standard white trim, switch it up and go with a bright high gloss monochromatic blue paint to match your cabinets for a dramatic floor to ceiling look that is known to reduce stress.
Open Shelving – If you are someone who needs access to a lot of organization solutions going with custom open shelving might be for you. Use the lower shelves for more items that require frequent access and use the upper shelves for photo boxes and albums. 
Cleverly Hiding Clutter – If you are more productive with a messy office environment, you don't have to change your way quite yet. There are a couple of ways you can easily hide your clutter without disrupting your work. Use a curtain to quickly hide open shelving and office technology when not in use. If your desk is always a mess, consider mixing in a vintage roll top desk into your decor so you can close and lock it for when guests come over or from curious children. 
Being Creative – If you don't have a lot of space for a productive workspace, you might be forced to get creative. Carve out a spot in your bedroom, or add a floating table to a hallway nook or mezzanine and even buy a garden office suite or she shed for the backyard which is an excellent option for families with small children.  
No matter what home office design you choose, make sure it will make you happy for many years to come while adding value to your home. Its hard to find a one-size-fits-all office kit in a store as everyone's needs are so different, but by using a custom solution, you get precisely what you every-time! For more questions about making a workspace for your home in Palm Springs, please contact The Closet Guy.