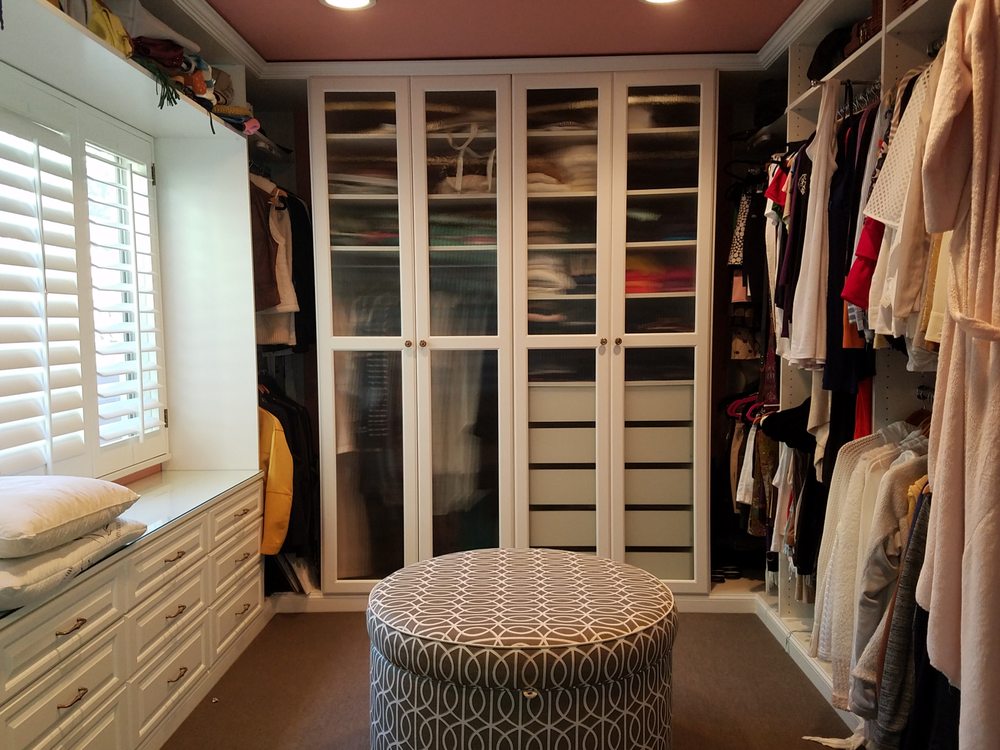 Choosing a New Finish for Your Custom Closet Cabinetry
When building a custom home or planning a remodel, having enough room to organize all of our clothing, shoes, and other accessories is a definite priority. Adding custom closet cabinetry
to your build list can be the answer to all your personal storage needs, but what about the look of the cabinets and woodwork inside the closet? How do you choose a finish that will last the test of time while fitting your style.
Choosing a finish for your custom closet should be next on the list after installation and allows you to take your customizations to the next level. When choosing the finish and look of your closet, you have several choices, and we'll help you figure out the best type of finish for you.

Traditional Classic Finishes
Nothing is as beautiful as custom woodwork, and often utilizing classic tones can offer a lot of flexibility when it comes to your custom closet. One great think about using classic and traditional finishes is that they seemingly never go out of style. Rich, deep colors of stains like natural maple or cherry will last for years to come, and if you ever choose to sell your home, you know that you've chosen a widely liked style of finish.
Traditional finishes hold up well over time and offer a classic, timeless look.
Modern European Finishes
Many homeowners update their home to a more modern look, and many times that can include expanding closet space and adding a new, modern walk-in closet space. If bold and modern is what you want, then going with a more modernized finish is exactly what you want to do. Typically, when exploring different modern European finishes, you are looking at colors like black, charcoal, and various shades of white. If you're looking for something even more outside the box, take a look at cross-grain laminate finishes. These can help provide more texture and depth to the finish on the wood.
If you're looking for something that has a luxurious, exotic feel, then take a look at modern European finishes for your custom closet.

Custom Finishes
If you feel like you've looked at every finish available, it may be time to start exploring more custom options. You work hard to be able to renovate your closet to be exactly how you want it, don't you deserve the same for the finish? If you aren't finding the right color or tone, a completely custom option can be concocted for you. We know many homeowners go to great lengths to have the perfect aesthetic, and you want to be sure that your custom closet provides that same seamless aesthetic experience.
What Else to Consider
There are a few other things to consider when considering the finish for your closet, beyond what color the rest of your home is. One thing to consider is how your clothing is going to look amongst the finish that you choose. If you own a lot of dark clothing, you may want to look for a tone that allows your clothing to blend in as part of the background. On the other end of the spectrum, you may want your clothes and accessories to be the stars of the show, so you'll want to look at brighter, more contrasting finishes.
You'll also want to consider what kind of hardware you are using in the closet. If your wardrobe includes a lot of gold accessories, you want to be sure that they aren't going to clash with the finish that you choose for the closet.

Wrapping Up
There's always a lot to consider when working on your home, and choosing the finish for your custom closet is no different. Take everything into consideration, and try some different samples out on the wood that you're going to finish. With so man different finish types to choose from, you are sure to find one that blends perfectly with the rest of your custom closet! If you have any questions about installing a custom closet in your home. Please contact The Closet Guy.