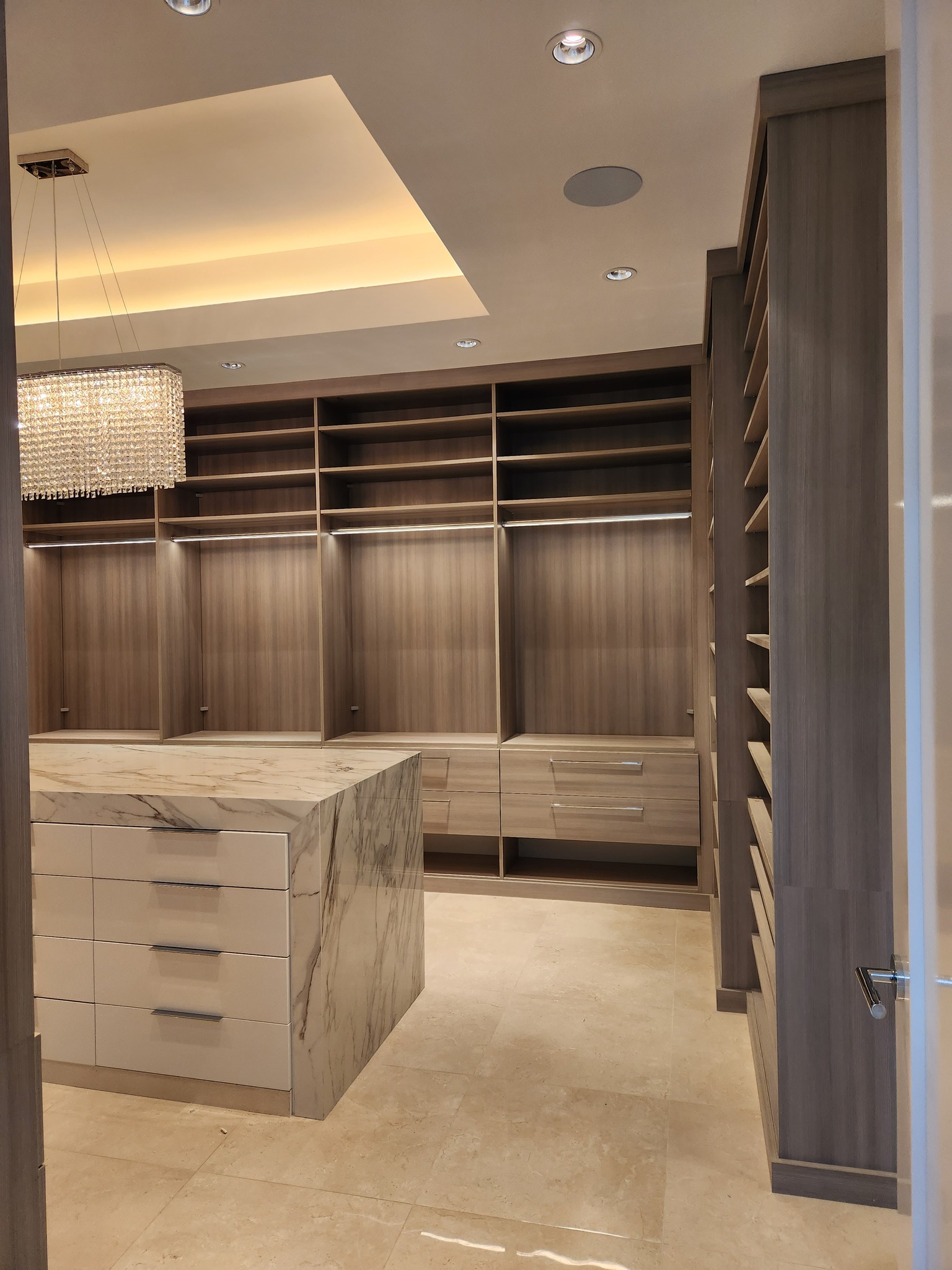 By The Closet Guy, Palm Desert's Trusted Closet Experts for Over 40 Years
Palm Desert's breathtaking landscapes and sun-soaked days are a dream, but when it comes to home interiors, particularly closets, the desert climate poses unique challenges. From the soaring temperatures to the intense sunlight, every aspect of your home should be tailored to thrive in this environment. Let's explore how you can design the perfect custom closet in Palm Dessert that not only complements the desert ambiance but also stands the test of time.
Understanding Palm Desert's Climate
Situated amidst the Coachella Valley, Palm Desert experiences predominantly high temperatures, low humidity, and year-round sunshine. While this means endless sunbathing and golf sessions, it also calls for home designs that align with such climatic specifics.

Design Techniques Tailored for Desert Climates
Sufficient Ventilation: Given the frequently high temperatures of Palm Desert, ensuring that your closet allows for ample air circulation can prevent excessive heat build-up. This not only safeguards the structure of the closet but also ensures the longevity of your garments.
Temperature Control: Along those same lines, Keeping your home and, if possible, your closet temperature-controlled year-round can play a pivotal role. A stable environment reduces the strain on the materials, ensuring they remain in pristine condition.
Shade: If your closet has windows, consider integrating sun-blocking solutions. This approach not only offers your new closet protection from direct sunlight but also keeps your belongings from fading from the intense sun.
Humidity to the Rescue: Given the arid conditions of Palm Desert, the use of humidifiers in homes has gained popularity, especially for wooden closets like the Stevens Wood collection. Maintaining a consistent humidity level can combat the dry climate, ensuring the wood remains undamaged and retains its elegant finish.
By incorporating these techniques, you ensure that your closet is not just a storage space but a carefully curated environment that actively cares for your belongings.

Sustainability Meets Style
At The Closet Guy, our primary recommendations, like Melamine and Stevens Wood, are carefully selected to endure Palm Desert's distinct climate. However, recognizing the diverse needs of our clientele, we also use Thermofoil in certain applications, known for its durable and sleek finish. Additionally, for those leaning towards sustainability without compromising on style, Bamboo is an impeccable choice. Not only is it eco-friendly, but it's also naturally suited for dry conditions. With this range of materials, we ensure a blend of quality, longevity, and environmental consideration in every desert-friendly closet we craft.
Keeping It Fresh: Maintenance Tips
Even the best-designed desert-friendly closets need a check now and then. Regularly inspect for signs of wear or any damage potentially caused by the desert climate. With materials like Melamine and Stevens Wood, the upkeep is minimal, ensuring you enjoy a pristine closet for years.
Celebrating Local Success Stories
Over our 40-year journey in Southern California, we've had the privilege to transform numerous homes with desert-friendly closets. From chic Melamine designs in contemporary homes to Stevens Wood masterpieces in sprawling villas, our work stands as a testament to quality and local understanding.
Contact Us Today
Desert living is unlike any other, and your closet should be a reflection of that uniqueness. At The Closet Guy, we've spent four decades perfecting the art of creating closets that not only look good but also live long. Ready to embrace desert-friendly designs? Contact us today for a tailored consultation.
Discover more about our projects and get inspired by visiting our website or giving us a call 760-636-303 . The desert waits, and so does your dream closet.