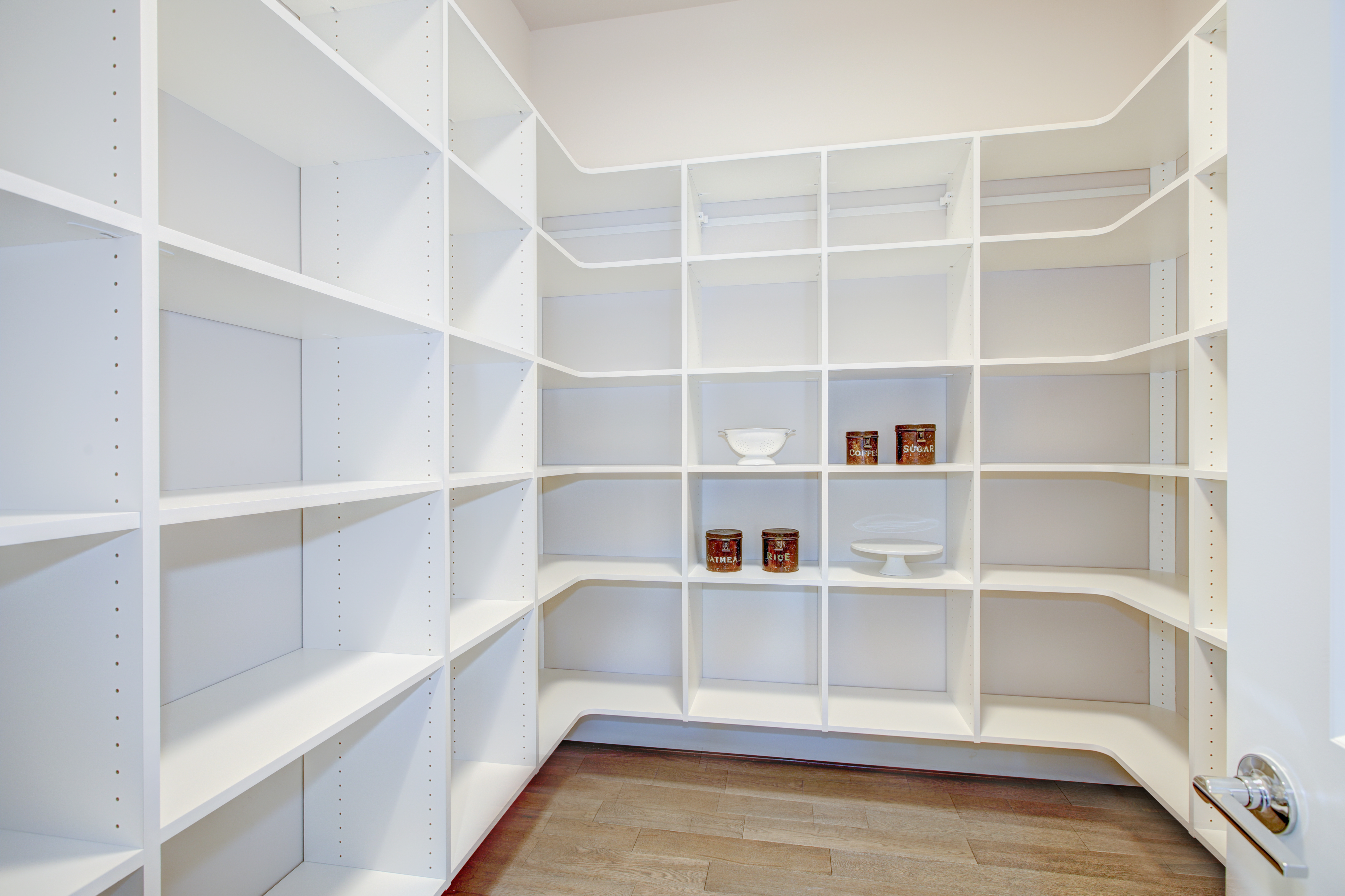 Have you been dreaming of a spacious and functional walk-in pantry for your new kitchen? Are you planning a kitchen remodel to update your look while also optimizing your storage space? A walk-in pantry is a storage solution that most people can only dream of having, and you are one of the lucky ones that is now sitting down to plan your own! Designing the perfect walk-in pantry can significantly improve the function of your kitchen. There are many benefits to having a walk-in pantry, including ample and easily accessible storage for your groceries and everyday household essentials. There are a few factors to consider when you set out to design the perfect walk-in pantry for your new kitchen.
Planning Your Walk-in Pantry
Before you start to demo your current kitchen, you want to plan your walk-in pantry. Take a look around your existing kitchen and jot down a list of issues that you want to remedy by building a walk-in pantry. Are you looking to keep your groceries behind closed doors? Are you looking to keep your pots, pans, and serving ware all in one place? Are you tired of looking at a cluttered countertop?
Let's Consider what you will store in your pantry because this will determine an organizational scheme and customize shelving options to your needs:
Consider Lighting
When you plan your walk-in pantry, make sure that you think about lighting options. Use both an overhead light fixture to illuminate the entire pantry and smaller LED lights to see individual shelves. You will want to view items that are lower in the pantry or farther back on the shelves. Consider using a sensor. Imagine how convenient it will be to open your pantry door and immediately have a light turn on, so you don't have to worry about flicking the switch yourself. Then, it will turn off when you close the door. This upgrade is one convenient way also to help curb energy costs over time.
Consider Quality Materials
When you are designing your walk-in pantry, make sure that you choose quality materials. You may think you can save money by using big box retail Do-It-Yourself kits, but you should avoid this mistake. By choosing quality materials and working with your existing kitchen renovation contractor, you will save yourself time and money on repairs. Quality materials will not only look consistent with the rest of your kitchen renovation, but it will also last longer and work more efficiently. 

Maximizing Your Space
So, you've considered many ideas, talked with experienced cabinet makers and contractors, and finally decided the layout of your new kitchen and walk-in pantry. Now, you have to plan the storage solutions you want to implement into your walk-in pantry.
These solutions will help wisely use every square inch of storage:
Consider Your Needs
When you plan storage solutions for your walk-in pantry, you first want to do inventory on the items you plan to store. You can install shelving units that offer a range of heights so you can keep both large items, like mixers and soup pots, in your pantry, while also installing baskets that help keep cans and other small groceries organized. Your contractor will work with you to meet all of your storage needs.
Consider Accessibility
You also need to think about how you will easily access high shelves, deep bins, or corner storage. Solutions range from installing a pullout step or a library ladder. If you are looking to obtain high shelves, you will undoubtedly need a customized, unique feature to help make everyday life a little bit easier. The last thing you want to do is leave a step ladder cluttering up the corner of your beautifully designed, brand new pantry. 

Choosing a Pantry Door
Now, you've planned the interior of your pantry, but there is one more factor to consider — a door. When you plan your walk-in pantry, you want to be sure to choose the best door for your space.
There are a few main options to consider:
French Doors
French doors are fashionable and trendy options for those who want to see into their brand new walk-in pantry. Remember that you will also need to keep your pantry beautiful and tidy if you choose this door option because even guests will be able to see into your pantry. Also, make sure to account for the floor space involved in swinging these doors open. 
Sliding Barn Doors
Sliding barn doors, which have become increasingly popular with the farmhouse trend, are an excellent option for those looking to hide storage or to have the ability to keep the pantry doors open when you need to. These, however, will take up wall space when they are fully accessible.  
Frosted Glass Doors
Frosted glass doors are an excellent compromise for those who are looking for hidden storage and a glass door appearance. These can also either be pocket doors or swinging doors, depending on the space you have available to you. 
When you are looking for a designer for your new walk-in pantry, these are a few factors to consider. By working with a experienced cabinet contractor, you will have the expertise to help guide you to choose the most quality materials and the best storage solutions for your kitchen renovation budget and needs.