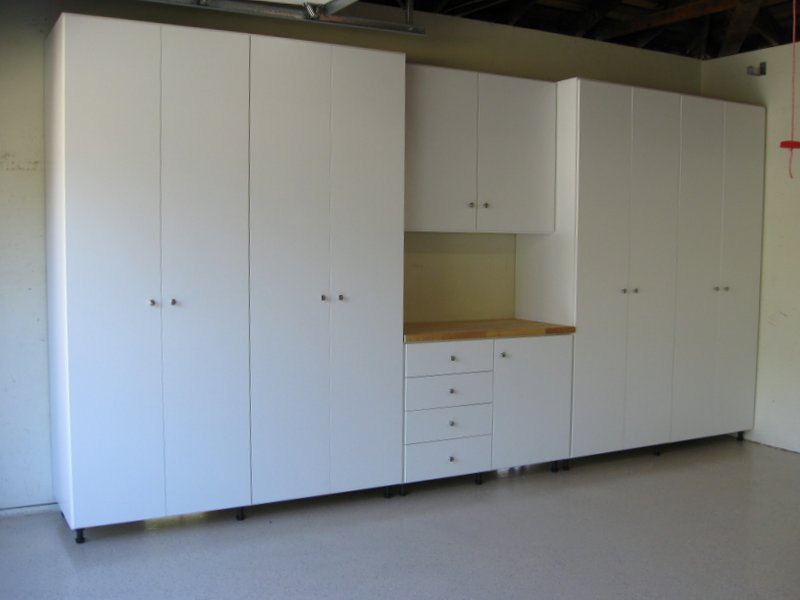 A custom garage makeover might be the perfect solution to fix your most cluttered and most abundant storage space in your home.  Custom cabinets will not only give you the storage upgrade you have been lacking, but will also look great in your garage as well. You'll want to leave your garage doors open on weekends and invite guests into your garage, just because it'll look that good. Garages are, after all, a part of our home. It's time we gave them the attention we give to the rest of the rooms in our home. 
Custom garage cabinets and storage systems will transform your garage space into a place you will have no trouble keeping organized. There are many benefits to having cabinets that are custom-made for your garage space and function.
Functional and Efficient
Most people use their garage as a workspace or storage space. It's where you go to complete those messy projects that require a workbench or area with the needed tools accessible at your fingertips. You don't want to have to dig to the bottom of your toolbox each time you need to find a tool. With a custom cabinets solution, you can customize them to the type of jobs you typically do. This will make your workspace more efficient and productive
Specialty Options
Custom garage storage and cabinet systems are incredibly flexible to the needs of homeowners, which sets them apart from modular garage cabinets. They come with a wide range of choices to make sure that you can choose what best fits your space. At The Closet Guy in Palm Desert we offer a variety of options for your garage, giving you the all the options to decide exactly how you want your custom system to function. Specialty options include sink units, technology charging stations, organizing bins, specialty drawers, various lighting options, TV shelving and enclosures, many color choices, and much more. No matter your style of work, there is an option that will work for you. 
High-End Look
Your garage doesn't have to be the dusty, dirty place in your home. It can be a place where you can work on projects while looking presentable and even well put together. 
It's time to ditch the wire shelving units that line the wall with exposed paint cans, toolboxes, moving blankets, and the rest of your materials. Instead, closed cabinetry will conceal the contents of your garage while looking sharp and sleek on the outside. Most people settle for function when they plan their garage storage solutions. 
With garage cabinets, you can have both function and beauty. Your custom cabinets will be made with superior craftsmanship and attention to detail, giving your home a high-end look.
Stay Organized
When you customize your garage cabinets, you can tailor each shelving unit and drawer to your needs. This customization provides you with the ability to decide what you need next to you for everyday tasks, what you need in drawers, what you need on shelves, and what you need a few times a year. Our enclosed garage cabinets are designed to help you keep things organized, but also hidden behind beautiful cabinet doors. This gives everything in your space a permanent place, so you don't have to go searching every time you need to complete a task.
More Storage Space
Not only do custom garage cabinets provide you with an organization system designed to make your life easier, but they will also give you more storage space. This space will maximize the number of materials and tools you can access. Because cabinets conceal what's inside, you can utilize each shelf to its maximum capacity. 
You will be able to store more inside a closed cabinet than on an open shelf. Also, unlike store-bought storage shelves, our custom cabinets give you the ability to choose the width and height to match your exact garage dimensions. This provides you with the opportunity to do more with the same space.
Transform your Workspace
With custom garage cabinets, you truly transform the function of your home, and you can have it all. They will increase your workspace productivity, the value of your home, and the amount of storage space, while beautifying a neglected room in your home and making working on projects a breeze. 
Gone are the days when you were mortified to leave your garage door open for the neighbors to peer in and see your mess. You'll never worry about exposed clutter, lack of function, or ugly, exposed wire storage shelves. Garage storage provide the function, beauty, storage, and sleek look you have been looking for to give your home a much-needed makeover. 
You won't need to compromise on aesthetics or function, because customizing your garage cabinets will give you both. Get started today by calling us for a free consultation and estimate to transform your workspace.