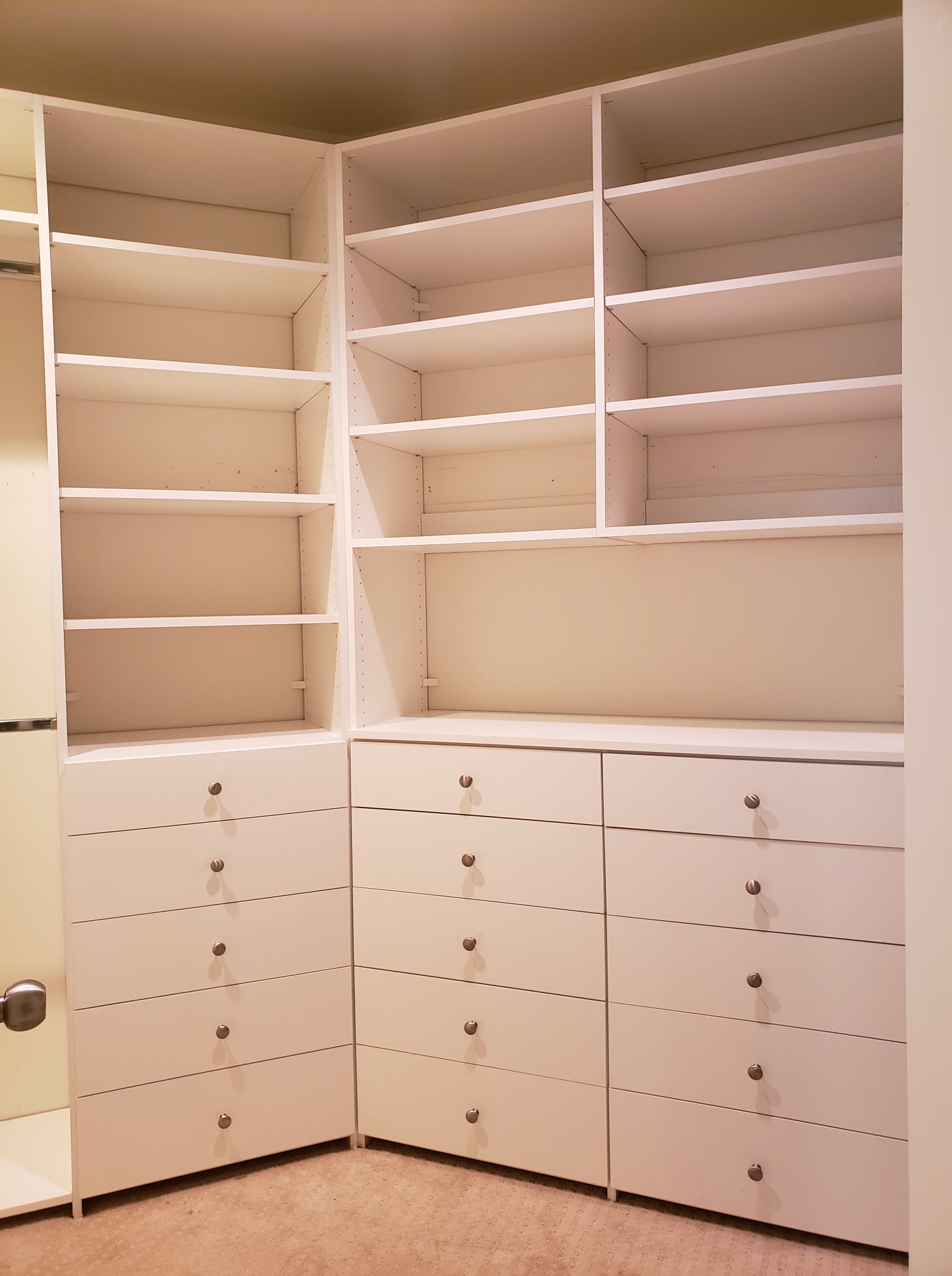 Your clothes aren't one-size-fits-all, and your closet shouldn't be either!
Do you dream of an organized closet where everything has a place?
If you answered, "Yes!" chances are you have browsed Pinterest for inspiration and found an abundance of DIY examples that look as simple as they are perfect.
Unfortunately, what you do not often see on Pinterest are the DIY fails: all the home improvement experiments gone wrong because overzealous DIYers embarked on a project without the right tools, skills, or experience.
Home improvement is rarely as simple as Pinterest bloggers would have you believe and sometimes DIY does not translate into financial savings or happy endings. It turns out, the price difference between a DIY closet kit and a custom closet is not always worth the added labor, anxiety, and frustration.
Read on to learn the top 5 reasons why custom closets are better than DIY closet kits.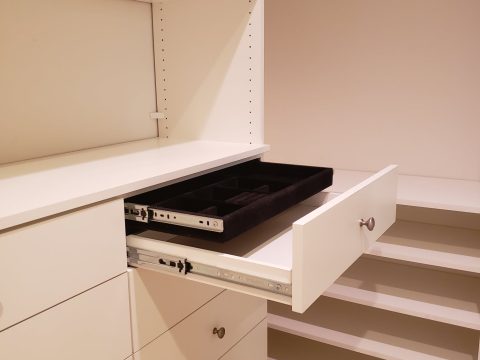 Experienced Professionals Can Complete Your Closet Faster.
With an experienced professional installing your closet, you will not have to worry about finding the right tools or cleaning up any of the mess. Also, professionals who install custom closets for a living can get the job done in a fraction of the time it will take even the most-handy-of-homeowners to complete the project themselves. Likewise, professionals know what questions to ask and the steps to take to ensure your closet is structurally sound enough to support the weight of your clothing.

Customization Offers Greater Design Flexibility.
Your clothes are not one-size-fits-all, and your closet shouldn't be either! With a custom closet you have the flexibility to pick your materials and control design elements such as decorative moldings, colors, and materials. This way you can create a closet design that complements the interior design of the rest of your home. To save money, some savvy homeowners even decide to create a "hybrid" closet system, combining custom elements with prefabricated kits-resulting in a closet system that combines the best of both worlds.
Custom Can Save Time, Money, and Minimize Hassle.
Trusting a professional to install your closet, the right way can save you time and money in the long run. Installing DIY closet kits on your own requires special tools and skills that will add to your project's cost and extend completion time. DIYers frequently lament over projects that were supposed to be finished in "a weekend" that took way longer, cutting into both their work and free time. Beyond that, installing a closet system yourself could lead to unexpected problems and dilemmas which require additional troubleshooting, resulting in your closet not turning out the way you expected. By the time you factor in your time and effort plus special tools, your DIY closet kit may not be the cheaper option.
Contractors Use Better Quality Materials.
With custom closets, you can customize the materials used in your closet as well. There is a huge variety in the type and quality of closet materials: think of solid wood vs. laminate "wood-look" products vs. wire shelving. Cheap, DIY kits you find at big-box retailers often use shoddy, low-quality materials that will not stand the test of time. Using an experienced professional to design your closet means you can choose quality materials that will last, maximizing the return on your investment.
Service After the Sale
When going with a DIY solution, you are responsible for anything that goes wrong or breaks. Most DIYers end up living with the blemish so that they don't have to figure out how to fix it. When going with a reputable contractor, any and all factory or installations defects will be handled immediately, so you can go back to enjoying your new space. Here at the Closet Guy, we stand behind all of our work and choose only the best suppliers for materials.

Custom Solutions Make Better Use of Your Space
Custom closet designs in Palm Springs, for example, usually come with the added expertise of a professional interior designer included in the price. Your designer will listen to your wants and needs and measure your space, in person, to create a customized design. Designers often conduct an inventory prior to creating a design so they can ensure every item will have a "home" in your custom closet. After all, a closet kit that won't fit all your items or help organize your space will be a waste of your time and money! Better still, designers can create a "mock-up" design before installation so you can visualize how your space will look before you jump into any decisions.
With a custom solution, you can leave the heavy lifting to professionals and have a clean, ready-to-use closet that will last for years in a matter of days. And if it's a Pinterest-worthy closet you are looking for, a custom closet is the solution. Let professional designers and carpenters turn a messy, underutilized space into the closet of your dreams!
If you are interested in organizing your space with a custom design, contact us for a no-obligation consultation today. Our storage experts have been helping homeowners just like you get the closet of their dreams that serves both form and function. Don't leave your new closet out of your renovation project!
For more information or to schedule a free in home consultations please contact The Closet Guy.