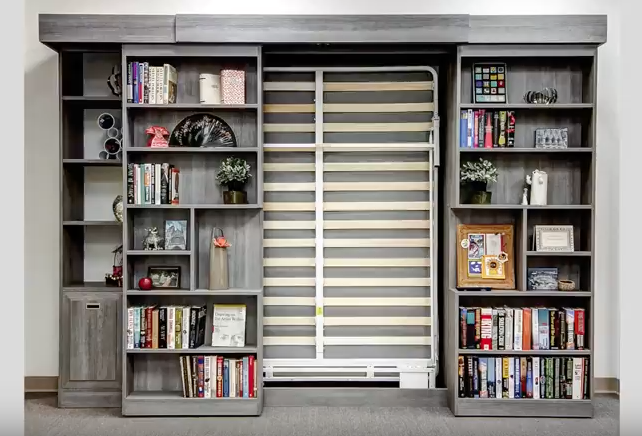 We are all trying to get the most usability from our homes, and often times the guest room is where we go when we need more usable space. Buts it's nice having a guest room for obvious reason so what better way to maximize your usable space by integrating a murphy bed or wall bed into your home or office. A murphy bed, if you are not familiar, is a bed that folds in-and-out from a wall to give you the flexibility to use the space where a bed would normally go for a yoga studio, gift wrapping station, sewing room or kids play room but still have guests stay for the weekend.
Since these fold up style beds are not common here in America, contacting a contractor is probably the best option. And if you are considering a hideaway bed, you should know there are a ton of clever options and design elements that can be used to make your space truly unique and functional. Because lets face it: no one wants just a simple bed bolted to the wall, so by using creativity to improve the blandness of the bed can make a space even larger and more interesting.
Below are some ways to accent your murphy bed to dazzle your guests even further:
Add Embellishments
One way to maximize the trendiness is to attach a large mirror to the underside of the bed. When the bed is down and in use, the mirror is not visible. However, when the bed is lifted and placed into the wall, the large mirror appears to be hanging on the wall. Not only does this camouflage your bed, but it also opens up the space even more. Hanging a large mirror in a tiny space is a quick and easy trick to making the room look twice as large!
Incorporate Multiple Elements
Create a multipurpose space by mixing usable elements together. One way to do this is to insert a folding couch in front of the bed. When you draw it down, you can remove the couch cushions and place the bed on top of the couch frame. When your bed is in the wall, you have a couch for guests to relax on and a space that doubles as your bed. Attaching a shelf to the top is an additional way to incorporate multiple elements but keep the space functional. When the bed is in its upright position, the shelf, filled with books and trinkets, is near the ceiling. With it's in its downright position, revealing the bed, the shelf is on the floor.
Note: If you require electronics on the shelf such as a television, ask your cabinet maker for "center throughout cabinets."
The shelf is simultaneously supporting the bed and providing storage space. Slide-away shelves can provide the same amount of storage and aesthetic. When sliding the bookcase to the side, the bed drops down. Using one area of space for multiple, functional pieces of furniture can maximize your space and show your guests that you are a design extraordinaire! By incorporating two elements together into one functioning space, your square footage can be maximized to create a space that is extremely usable, by you and your guests.
Disguise Your Bed
Another easy method to conceal the bed while making your space look beautiful and well-designed is disguising your bed with an nice exterior finish. By using cabinet grade materials over the bed while it is on the wall no one will ever know that those cabinets actually house a comfy bed. This idea of disguising your bed could also be incorporated with wallpaper murals. On the underneath of your bed, attach a wallpaper mural or wallpaper tiles. These are typically cheap and easily removable. I have even seen pressed aluminum panels used for a more industrial look.
Murphy beds are a simple way to increase the space in a small room or apartment with effortless installation. By including extra design elements you can maximize the look and feel of your room with space-saving abilities. These simple additions will make a room feel even larger and more spacious. For more information about custom murphy wall beds please contact The Closet Guy.